Media
Thunder Roads Ohio Magazine Review: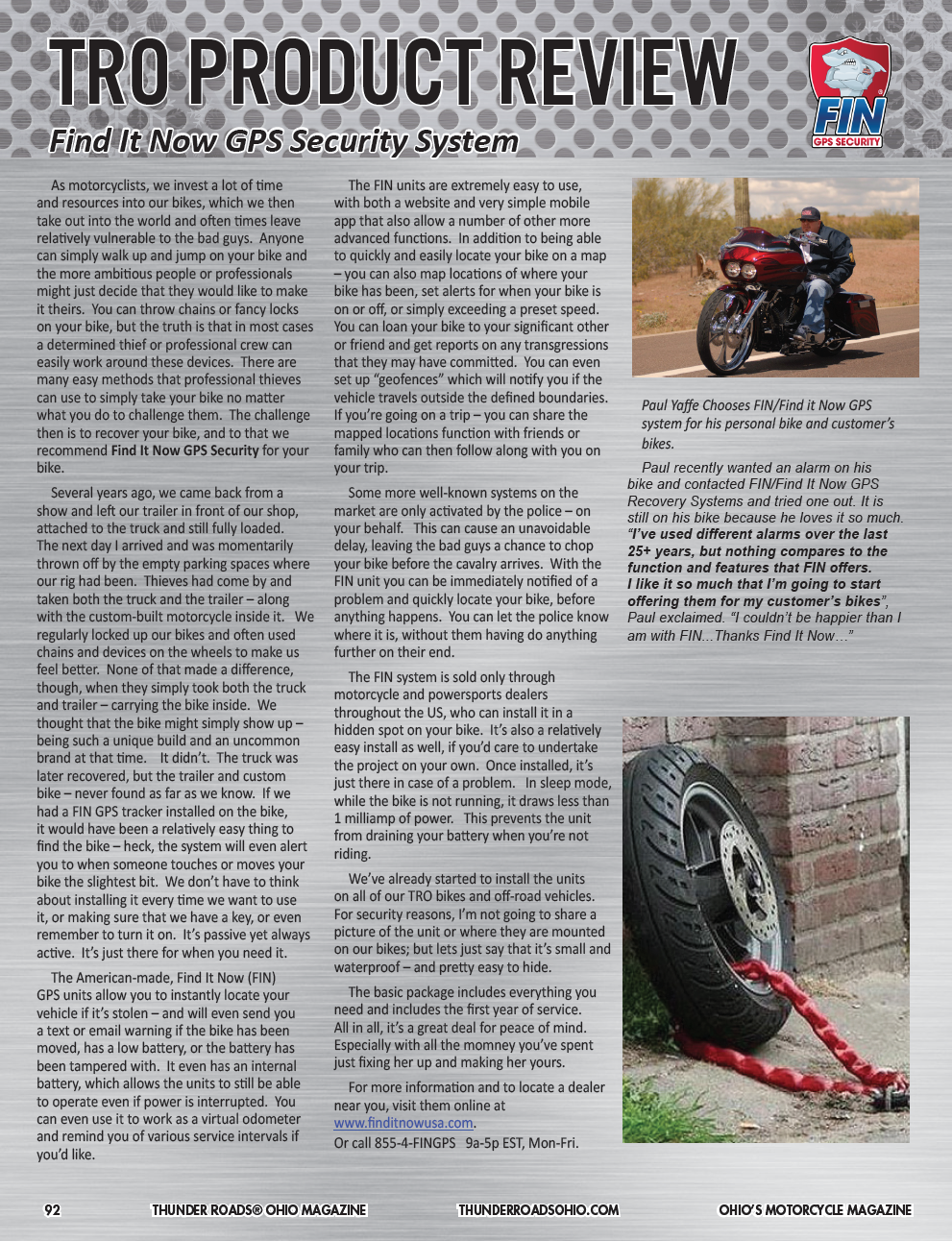 RoadRUNNER Motorcycle Touring & Travel Review: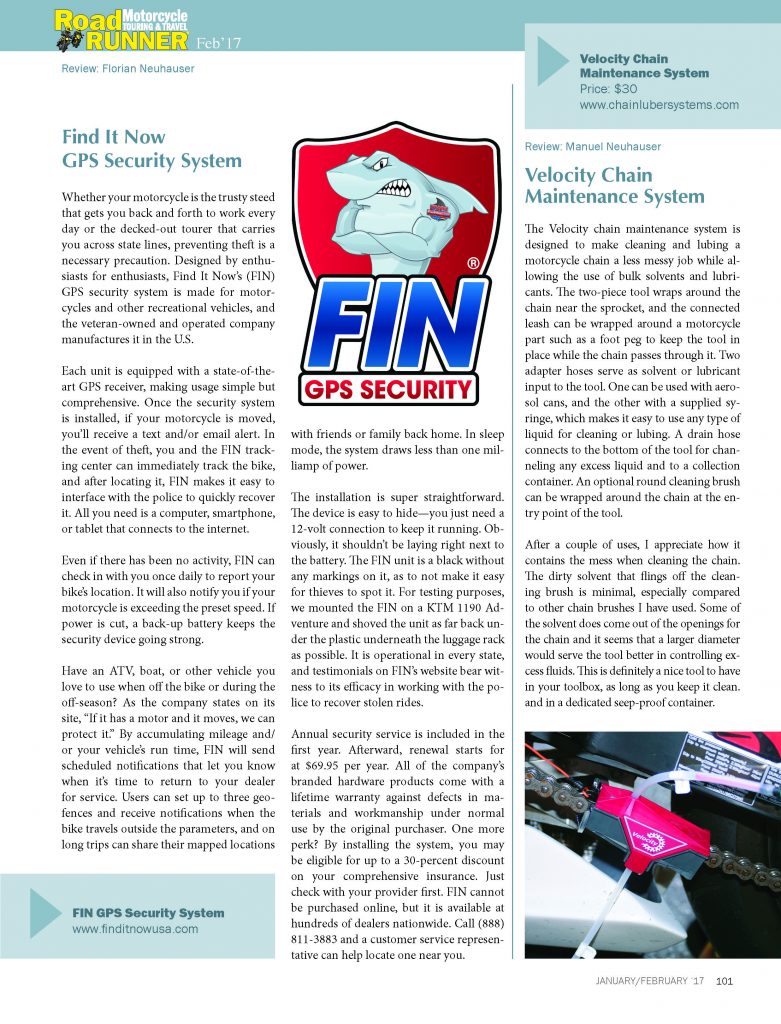 ---
Paul Yaffe Chooses FIN/Find It Now GPS Security System for His Personal Bike and Customers' Custom Bikes

Paul Yaffe started his first shop over 25 years ago in a 900 sq. ft. building in Phoenix, Arizona. He's now celebrating his  25th Anniversary in a building almost 30 times bigger than his first building and is among the world's best custom bike builders….If not the best! Bagger Nation builds "off the hook" custom baggers and sells hundreds of custom "Paul Yaffe" designed and manufactured parts to the aftermarket. 

Paul recently wanted an alarm on his bike and contacted FIN/Find It Now GPS Recovery Systems and tried one out. It is still on his bike because he loves it so much. "I've used different alarms over the last 25+ years, but nothing compares to the function and features that FIN offers. I like it so much that I'm going to start offering them for my customer's bikes", Paul exclaimed. "I couldn't be happier than I am with FIN…Thanks Find It Now…"



---

---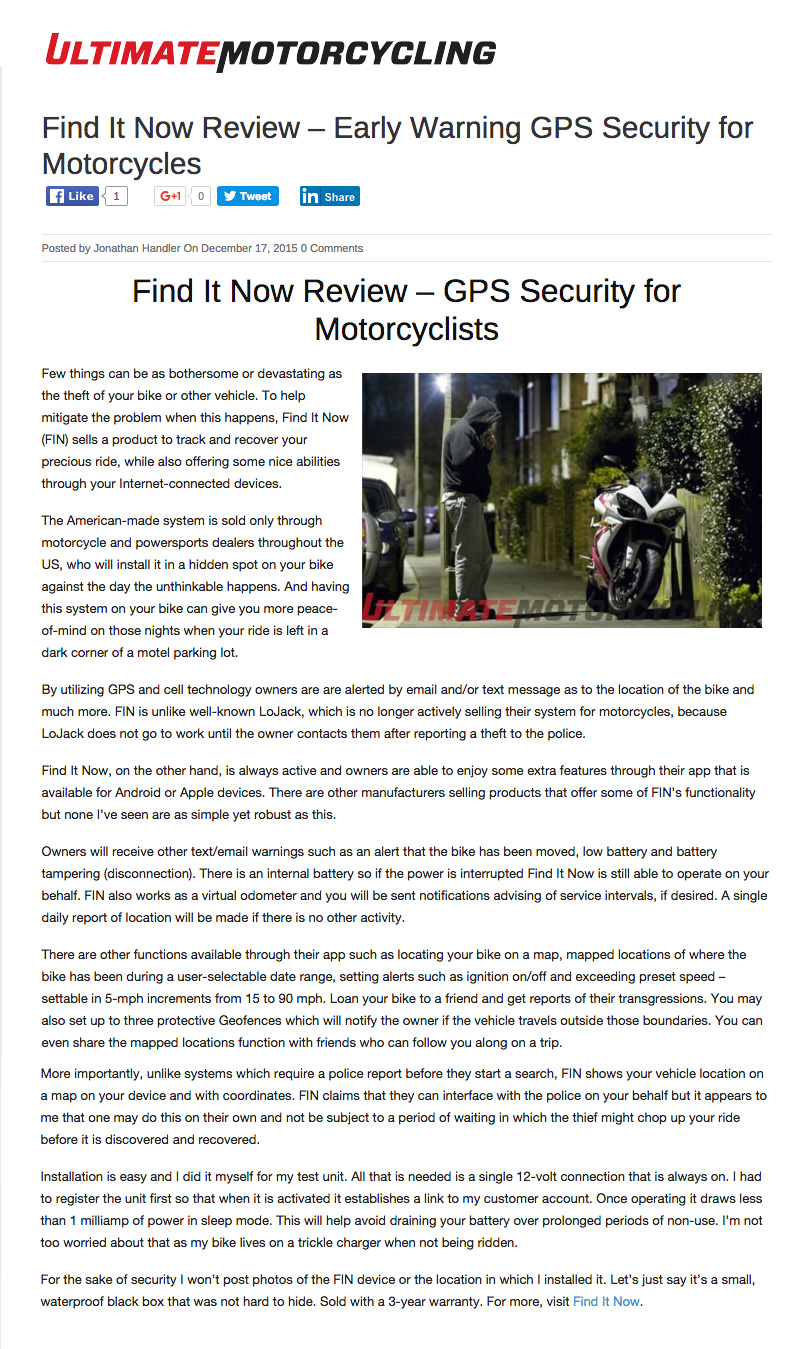 ---

---
Full Throttle Magazine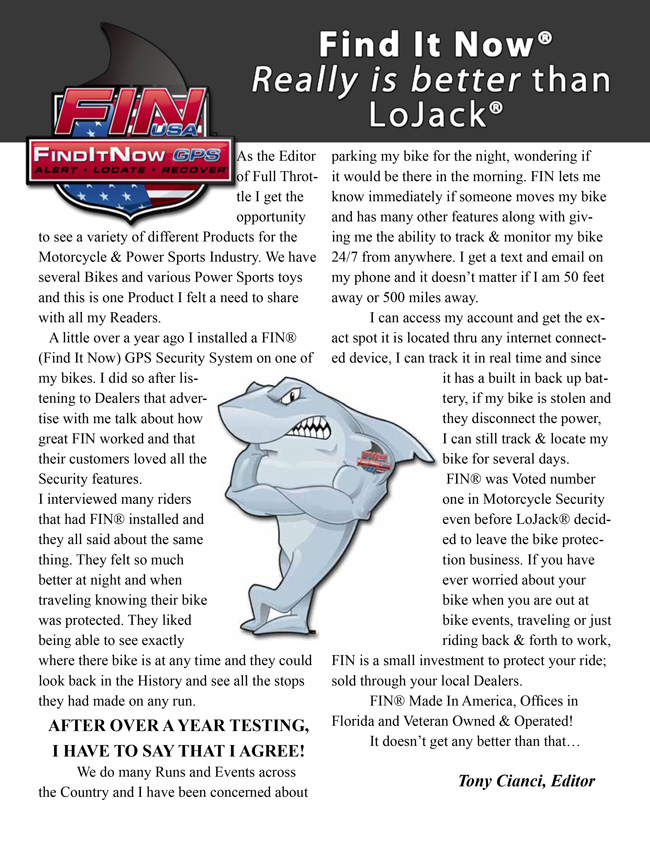 Cycle Source Magazine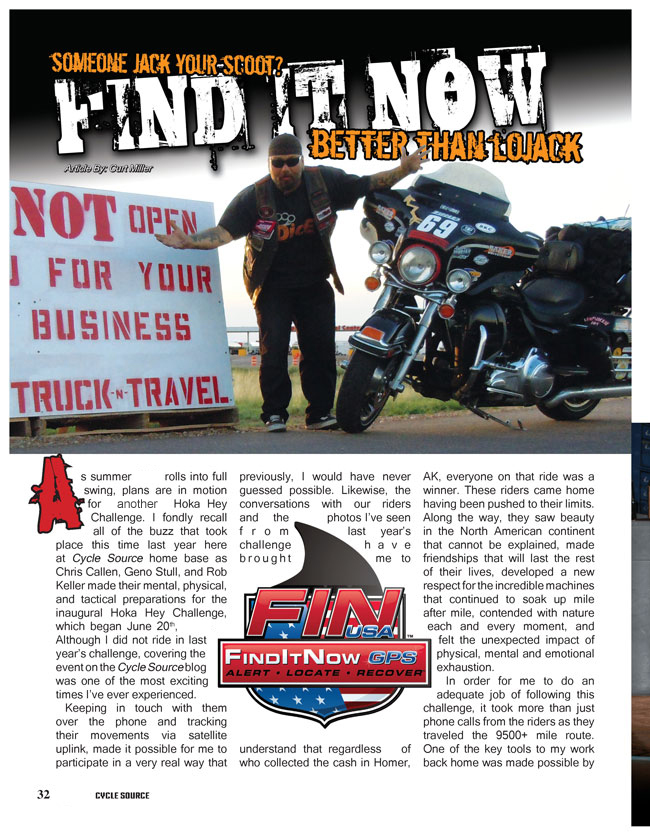 As seen on Sons of Anarchy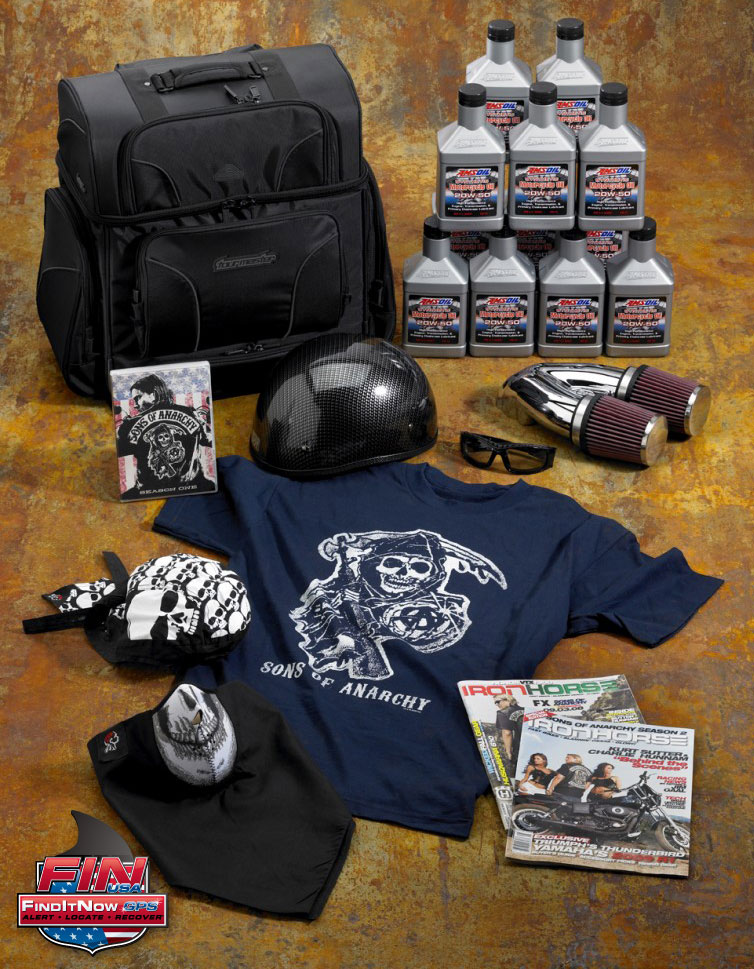 PRESS RELEASE, Los Angeles, CA –
To celebrate the second season return of its critically acclaimed hit drama series Sons of Anarchy, FX has partnered up with some of the top product names in the motorcycle world to present the "Sons of Anarchy Gear Pack Giveaway." The prize package will include a season one DVD set of Sons of Anarchy which is available on Blue-ray and DVD August 18th.
In addition to the first season DVD, the prize package includes:
FIN-Find It Now Security System – an anti-theft tracking device that will ALERT, LOCATE, and RECOVER your ride if it is moved or tampered with
Gift Certificate for S&S Single Bore Tuned Induction Kit- kit features two forward facing, tuned length induction tracts and dual air filters to increase both horsepower and torque.
Tour Master Nylon Cruiser III-Large Sissybar Bag- a heavy duty, weather-resistant bag with nylon construction and a hinged lid providing storage space and easy access.
Gift Certificate for a case of AMSOIL 20W-50 Synthetic Motorcycle Oil- a high performance engine, transmission, and primary chaincase lubricant.
Bobster® Gunner – eyewear that converts from sunglasses to goggles with lenses that darken in the sun.
Vega XTS Naked Half Helmet- featuring aggressive cutaway styling and exceptional fit with a plush, super absorbent interior.
Iron Horse Magazine- subscription to the #1 motorcycle magazine for the motorcycle enthusiast.
ZANheadgear ® Neodanna – Bandanna with neoprene face mask to ensure full coverage of the face and neck.
ZANheadgear ® Flydanna ® – Headwrap with a tail and ties; perfect under a helmet.